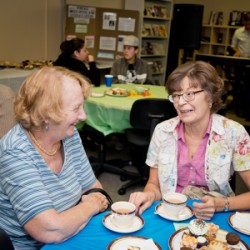 ESL Stage 2 (CLB 5-8) Instructor
Location: Portage Learning and Literacy Centre, Portage la Prairie
Schedule: Tuesday, Thursday; 6pm to 9pm, plus 1-hour prep time per week
Term: September 8, 2020 – June 29, 2021
Class Level: ESL Stage 2 (CLB 5-8)
Wage Range: $37-$38/hour for 7 hours per week
Role and Responsibilities:
Plan and teach settlement-focused lessons with an emphasis on essential skills and strategies for academic and workplace success to a group of adult learners
Provide information integrated within the class syllabus based on client need and the student-suggested topics of interest
Create a welcoming and encouraging classroom environment
Monitor student progress through the components of Portfolio Based Language Assessment (PBLA)
Plan for and assist learners in developing their portfolios and complete the required documentation for PBLA
Provide feedback to students informally on an ongoing basis and formally through student progress reports and conferencing
Refer students to community services and other resources as required
Maintain student attendance records and complete monthly reporting requirements
Work co-operatively with on-site child care staff to provide support to parents and their children when necessary
Participate in professional development
 Qualifications:
Certificate in Teaching English as a Second Language (CTESL) from a TESL Canada recognized institution or trained in Canada to teach English as a second language
Experience developing, preparing and delivering student-centred and task-based lessons suitable for a multi-faceted classroom, including multi-level learners
Knowledge and experience with the Canadian Language Benchmarks (CLB), including willingness to complete CLB Bootcamp Certification
Knowledge of or willing to learn the application of Portfolio Based Language Assessment (PBLA
Excellent communication and cross-cultural skills
Ability to work independently with solid time management and organizational skills
Approachability and patience in instructing and mentoring learners
Punctual, reliable and able to be a team player
How to Apply:
Please email your resume and cover letter to: cathy@pllc.ca by 12:00pm, Monday, August 17, 2020.
We thank all applicants; however, only selected candidates will be contacted for an interview.
Thank you for your interest in working with us. Please also consider volunteering! It looks great on your resume, adds to your skills and experience, and it is definitely rewarding to help others!