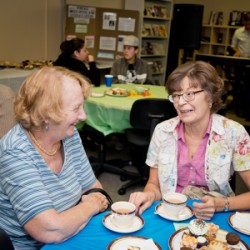 The Portage Learning and Literacy Centre is currently seeking a full-time (37.5 hours/week) Settlement Worker to provide settlement services to all newcomers to Canada. This position focuses on informing, orienting, and connecting newcomers to their community and its resources, and supporting successful social and economic integration.
Duties and Responsibilities:
Reporting to the Executive Director and working closely with the Settlement Coordinator and other settlement staff, this position is responsible for:
• Welcoming and assisting all newcomer clients with immediate and essential settlement services in Portage la Prairie and other communities in the Central Plains region.
• Conducting formal intakes and collecting relevant information of clients.
• Creating individually-tailored settlement plans with clients to address their basic and immediate settlement needs as well as short and long-term goals.
• Researching new resources and information to address clients' concerns, within the scope of their identified settlement needs.
• Providing 1:1 and group based information/orientation sessions on key settlement topics and services.
• Creating opportunities for clients to access resources and information through the creation of partnerships, collaboration, and consistent referral protocols.
• Engaging clients in their local communities and building connections with community members, public institutions, employers and community organizations.
• Assisting with coordinating community activities, including events that facilitate interaction and connection between newcomers and established community members.
• Tracking statistical information and providing input on monthly, quarterly and annual reports.
• Conducting outreach in the community and with clients to receive regular feedback on the program and identify new opportunities for programming.
• Ensuring strict adherence to client confidentiality and all professional codes of conduct.
• Performing other duties as required for meeting all requirements of funding agreement.
Qualifications:
• Excellent interpersonal, cross-cultural, written and verbal communication skills
• Demonstrated ability to establish and maintain respectful and professional relationships
• Understanding and awareness of the newcomer experience, including knowledge of diversity issues and an ability to work within a cross-cultural perspective
• Developed case management skills and ability to regularly follow up with clients
• Considerable knowledge of Portage la Prairie and surrounding communities, including awareness of all resources, programs and services for referrals and partnerships
• Group facilitation and public speaking skills
• Flexible schedule and willing to work some evenings and weekends
• Valid Driver's Licence and access to a vehicle
• Demonstrated advanced level of computer proficiency: skills with social media and a variety of software products, especially Microsoft Office
• Minimum one year of relevant experience is preferred
• Fluency in additional languages, including Ukrainian, is a definite asset
• Criminal Record Check and Child Abuse Registry Check are conditions of employment
To Apply: Please send us a cover letter and resume before 12:00pm on Wednesday, October 12, 2022.
Wage range: $18-20/hour
We appreciate the interest of all applicants; however, only those selected for interview will be contacted.