Employment & Volunteer Opportunities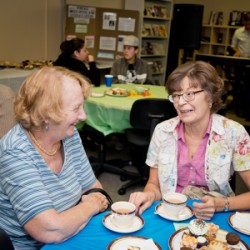 The Portage Learning and Literacy Centre is currently seeking a full-time (37.5 hours/week) Settlement Worker to provide settlement services to all newcomers to Canada. This position focuses on informing, orienting, and connecting newcomers to their community and its resources, and supporting successful social and economic integration.
Duties and Responsibilities:
Reporting to the Executive Director and working closely with the Settlement Coordinator and other settlement staff, this position is responsible for:
Welcoming and assisting all newcomer clients with immediate and essential settlement services in Portage la Prairie and other communities in the Central Plains region.
Conducting formal intakes and collecting relevant information of clients.
Creating individually-tailored settlement plans with clients to address their basic and immediate settlement needs as well as short and long-term goals.
Researching new resources and information to address clients' concerns, within the scope of their identified settlement needs.
Providing 1:1 and group based information/orientation sessions on key settlement topics and services.
Creating opportunities for clients to access resources and information through the creation of partnerships, collaboration, and consistent referral protocols.
Engaging clients in their local communities and building connections with community members, public institutions, employers and community organizations.
Assisting with coordinating community activities, including events that facilitate interaction and connection between newcomers and established community members.
Tracking statistical information and providing input on monthly, quarterly and annual reports.
Conducting outreach in the community and with clients to receive regular feedback on the program and identify new opportunities for programming.
Ensuring strict adherence to client confidentiality and all professional codes of conduct.
Performing other duties as required for meeting all requirements of funding agreement.
Qualifications:
Excellent interpersonal, cross-cultural, written and verbal communication skills
Demonstrated ability to establish and maintain respectful and professional relationships
Understanding and awareness of the newcomer experience, including knowledge of diversity issues and an ability to work within a cross-cultural perspective
Developed case management skills and ability to regularly follow up with clients
Considerable knowledge of Portage la Prairie and surrounding communities, including awareness of all resources, programs and services for referrals and partnerships
Group facilitation and public speaking skills
Flexible schedule and willing to work some evenings and weekends
Valid Driver's Licence and access to a vehicle
Demonstrated advanced level of computer proficiency: skills with social media and a variety of software products, especially Microsoft Office
Minimum one year of relevant experience is preferred
Fluency in additional languages, including Ukrainian, is a definite asset
Criminal Record Check and Child Abuse Registry Check are conditions of employment
To Apply: Please send us a cover letter and resume before 12:00pm on Wednesday, October 12, 2022.
Wage range: $18-20/hour
We appreciate the interest of all applicants; however, only those selected for interview will be contacted.
Members of the Board of Directors
The Portage Learning and Literacy Centre is a not-for-profit organization providing individuals of the Central Plains region with opportunities to realize their literacy, educational, employment, and life goals through a positive and supportive environment. The affairs of the PLLC are governed by a Board of Directors.
Board members play a key role in setting the direction and priorities of the Centre—this is a great way to make a substantial contribution to the organization and the community.
The Board of Directors is the acknowledged final authority of PLLC.  Its objectives are as follows:  (1) To ensure that services provided are within the Objects of PLLC, Inc.;  (2) To ensure that the highest possible standards of service are offered and available to the community at reasonable cost; (3) To ensure the financial health of PLLC, Inc.
All interested individuals should apply to be a member of the Board of Directors by filling out our online volunteer application form found below.  If you prefer a paper copy or if you have any questions, please stop by our office at 110 Saskatchewan Ave. West, Portage la Prairie, or email volunteer@pllc.ca.
Other Volunteer Opportunities:
Thank you for your interest in volunteering for the PLLC. As a volunteer, you may choose options that are most suitable to your personality and your schedule. We are always looking for dedicated volunteers to fill the following positions:
ESL Classroom Assistant is responsible for assisting the ESL Instructor with teaching English to newcomers in the classroom, as planned and directed by the ESL Instructor. ESL classes are currently offered as Stage 1 (CLB 1-4) and Stage 2 (CLB 5-8), with classes on Tuesday and Thursday evenings from 5:30pm to 8:30pm at the Portage Learning and Literacy Centre.
Language Tutor meets individually or in a small group to help newcomers improve conversational English and gain confidence. The tutor will have access to a wealth of ESL resource materials through the PLLC to effectively conduct tutorial sessions based on the students' needs.
Settlement Partner meets individually with newcomers to offer friendship, support, community tours, and an opportunity to practice English. Settlement partners are often matched based on mutual interests, but also experience in the community. Whether you are a long-time resident or a newcomer who has been here a few years, we would love to have you volunteer with us to help our newest newcomers get settled in their new community.
Special Events Assistant provides support to our staff when organizing and implementing planned special events for newcomers to build connections in the community. In this position, you will work alongside staff to ensure the success of the event or activity. Tasks could include set-up, greetings, attendance tracking, cooking, serving, making tea or coffee, and cleaning, but also having fun while you do it.
Career Mentor is responsible for providing the opportunity for internationally trained people to practice in their respective careers. If you are a business owner, professional, or retired from your career, this is your opportunity to make a huge difference in someone's life and helping them achieve their career goals in Canada.
Conversation Circle Facilitator leads a group discussion to allow newcomers to practice their English and learn about the community and all facets of living in Canada. We are looking for more volunteers to help with this group or to start another group with newcomers in communities outside of Portage la Prairie.
Literacy Classroom Support is responsible for assisting the instructor and students in the Literacy classroom during the daytime, Monday to Friday, and Tuesday evenings. Students often need help with basic Math and English, so if you have some time during the week, please sign up to help our Literacy students with their studies.
If you are interested in volunteering for us, please fill out and submit the application form below and we will follow up with you to discuss your interests and complete the following required documents:
Volunteer Confidentiality Agreement
Waiver of Claims & Release of Liability
Child Abuse Registry Check
Criminal Record Check