Employment & Volunteer Opportunities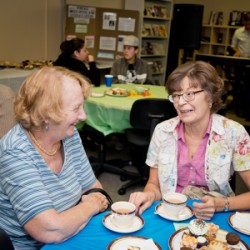 ESL Stage 2 (CLB 5-8) Instructor
Location: Portage Learning and Literacy Centre, Portage la Prairie
Schedule: Tuesday, Thursday; 6pm to 9pm, plus 1-hour prep time per week
Term: September 8, 2020 – June 29, 2021
Class Level: ESL Stage 2 (CLB 5-8)
Wage Range: $37-$38/hour for 7 hours per week
Role and Responsibilities:
Plan and teach settlement-focused lessons with an emphasis on essential skills and strategies for academic and workplace success to a group of adult learners
Provide information integrated within the class syllabus based on client need and the student-suggested topics of interest
Create a welcoming and encouraging classroom environment
Monitor student progress through the components of Portfolio Based Language Assessment (PBLA)
Plan for and assist learners in developing their portfolios and complete the required documentation for PBLA
Provide feedback to students informally on an ongoing basis and formally through student progress reports and conferencing
Refer students to community services and other resources as required
Maintain student attendance records and complete monthly reporting requirements
Work co-operatively with on-site child care staff to provide support to parents and their children when necessary
Participate in professional development
 Qualifications:
Certificate in Teaching English as a Second Language (CTESL) from a TESL Canada recognized institution or trained in Canada to teach English as a second language
Experience developing, preparing and delivering student-centred and task-based lessons suitable for a multi-faceted classroom, including multi-level learners
Knowledge and experience with the Canadian Language Benchmarks (CLB), including willingness to complete CLB Bootcamp Certification
Knowledge of or willing to learn the application of Portfolio Based Language Assessment (PBLA
Excellent communication and cross-cultural skills
Ability to work independently with solid time management and organizational skills
Approachability and patience in instructing and mentoring learners
Punctual, reliable and able to be a team player
How to Apply:
Please email your resume and cover letter to: cathy@pllc.ca by 12:00pm, Monday, August 17, 2020.
We thank all applicants; however, only selected candidates will be contacted for an interview.
Thank you for your interest in working with us. Please also consider volunteering! It looks great on your resume, adds to your skills and experience, and it is definitely rewarding to help others!
Apr
19
Mon
1:00 pm
Career Exploration Workshop: Pre...

@ Portage Learning & Literacy Centre
Career Exploration Workshop: Pre...
@ Portage Learning & Literacy Centre
Apr 19 @ 1:00 pm – 4:00 pm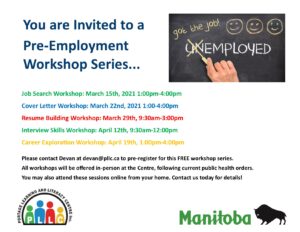 Members of the Board of Directors
The Portage Learning and Literacy Centre is a not-for-profit organization providing individuals of the Central Plains region with opportunities to realize their literacy, educational, employment, and life goals through a positive and supportive environment. The affairs of the PLLC are governed by a Board of Directors.
Board members play a key role in setting the direction and priorities of the Centre—this is a great way to make a substantial contribution to the organization and the community.
The Board of Directors is the acknowledged final authority of PLLC.  Its objectives are as follows:  (1) To ensure that services provided are within the Objects of PLLC, Inc.;  (2) To ensure that the highest possible standards of service are offered and available to the community at reasonable cost; (3) To ensure the financial health of PLLC, Inc.
All interested individuals should apply to be a member of the Board of Directors by filling out our online volunteer application form found below.  If you prefer a paper copy or if you have any questions, please stop by our office at 110 Saskatchewan Ave. West, Portage la Prairie, or email volunteer@pllc.ca.
Other Volunteer Opportunities:
Thank you for your interest in volunteering for the PLLC. As a volunteer, you may choose options that are most suitable to your personality and your schedule. We are always looking for dedicated volunteers to fill the following positions:
ESL Classroom Assistant is responsible for assisting the ESL Instructor with teaching English to newcomers in the classroom, as planned and directed by the ESL Instructor. ESL classes are currently offered as Stage 1 (CLB 1-4) and Stage 2 (CLB 5-8), with Stage 1 classes on Tuesday, Wednesday, and Thursday evenings from 6pm to 9pm at the Portage Learning and Literacy Centre.
Language Tutor meets individually or in a small group to help newcomers improve conversational English and gain confidence. The tutor will have access to a wealth of ESL resource materials through the PLLC to effectively conduct tutorial sessions based on the students' needs.
Settlement Partner meets individually with newcomers to offer friendship, support, community tours, and an opportunity to practice English. Settlement partners are often matched based on mutual interests, but also experience in the community. Whether you are a long-time resident or a newcomer who has been here a few years, we would love to have you volunteer with us to help our newest newcomers get settled in their new community.
Special Events Assistant provides support to our staff when organizing and implementing planned special events for newcomers to build connections in the community. In this position, you will work alongside staff to ensure the success of the event or activity. Tasks could include set-up, greetings, attendance tracking, cooking, serving, making tea or coffee, and cleaning, but also having fun while you do it.
Career Mentor is responsible for providing the opportunity for internationally trained people to practice in their respective careers. If you are a business owner, professional, or retired from your career, this is your opportunity to make a huge difference in someone's life and helping them achieve their career goals in Canada.
Conversation Club Facilitator leads a group discussion to allow newcomers to practice their English and learn about the community and all facets of living in Canada. We currently offer a Conversation Club on Monday evenings at the PLLC, but we are looking for more volunteers to help with this group or to start another group with newcomers in communities outside of Portage la Prairie.
Literacy Classroom Support is responsible for assisting the instructor and students in the Literacy classroom during the daytime, Monday to Friday, and Tuesday evenings. Students often need help with basic Math and English, so if you have some time during the week, please sign up to help our Literacy students with their studies.
If you are interested in volunteering for us, please fill out and submit the application form below and we will follow up with you to discuss your interests and complete the following required documents:
Volunteer Confidentiality Agreement
Waiver of Claims & Release of Liability
Child Abuse Registry Check
Criminal Record Check