Central Manitoba Literacy Program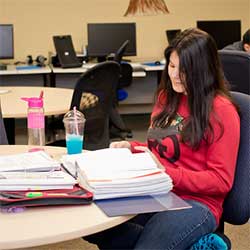 The Adult Literacy program is a self-paced program that assists individuals to improve in their numeracy, writing/reading and computer skills. Each topic is divided into three different stages.
Individuals who enroll in the program are working toward a variety of different personal goals. Some goals are to attend Red River College, gain more confidence in reading or to obtain better employment opportunities. Individuals whose goal is to obtain their Mature Grade 12 diploma are able to obtain 2 credits when they have completed the 3rd stage in the English program.
The focus of the program is based on the nine essential skills. The nine essentials skills are:
•    Reading text
•    Document use
•    Oral Communication
•    Writing
•    Numeracy
•    Working with others
•    Thinking skills
•    Continuous learning
•    Computer use