Employment and Volunteer Opportunities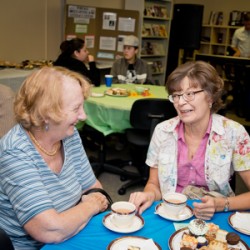 Employment Opportunities
Finance Officer (part-time, 20 hours per week)
The Finance Officer reports to the Education Director and Program Director and is responsible for the financial management of the Portage Learning and Literacy Centre and its programs.
The ideal candidate will have the following experience:
Strong general accounting skills with three or more years of experience in accounting, budgeting, financial planning and analysis or other financial activities
Experience administering payroll, and awareness of employment standards
Experience preparing financial statements and statistical reports for managers, the Board, and funding agencies
Demonstrated aptitude in dealing with private and confidential information; uses diplomacy and tact in all interactions
Experience with not-for-profit, charitable organizations
TECHINCAL SKILLS
Knowledge of Canadian GAAP, accounting practices, and applications
Knowledge of Income Tax Act, Payroll and remittance procedures, and GST remittance procedures
Knowledge of budget preparation and analysis techniques
Excellent command of Simply Accounting/SAGE 50 accounting software
Excellent command of Microsoft Office, including advanced working knowledge of Excel
Working knowledge of accounting protocols and financial regulations for the Province of Manitoba and the Government of Canada 
SOFT SKILLS
Strong organizational and time management skills, high attention to detail
Ability to work as a team player as well as an individual contributor
Excellent verbal and written communication skills
Flexible and adaptable approach to work processes, problem resolution and continuous process improvement
Salary: To be negotiated; eligible for benefits after 3 months
How to Apply:
Please email your resume and cover letter to Cathy Dowd at [email protected] by 4:00pm, Thursday, August 3rd.
We thank all applicants; however, only selected candidates will be contacted for an interview.
Program Assistant
The Program Assistant is employed by the Portage Learning and Literacy Centre with funds made available through Immigration, Refugees and Citizenship Canada. The Program Assistant is responsible for a variety of program delivery and administrative duties necessary to efficiently run the Settlement program called Newcomer Settlement Services.
Qualifications:
Essential
Experience providing program delivery and administrative support for programs.
Strong organizational skills; able to set priorities, meet deadlines, and manage multiple workloads.
Experience in maintaining a secure filing system, both electronic and paper.
Good working knowledge and usage of internet browsers, Windows environment and Microsoft Office software – Word, Excel, PowerPoint, Outlook, etc.
Demonstrated experience in written communications skills, including drafting correspondence, surveys, and minutes, and formatting and editing documents.
Experience with tracking statistics, compiling information, and data entry.
Excellent interpersonal and communication skills – must be seen by all clients and staff to be approachable, supportive, and encouraging.
Flexible, self-motivated and self-reliant, but able to work effectively in a team environment.
Experience with planning logistics for implementing events, and ability to create and sustain strong connections in the community.
Sensitivity and comfort of working with multicultural issues, and newcomers to Canada.
Ability to maintain confidentiality, including a secure filing system.
Ability and willingness to work some evenings and weekends.
Desired
Knowledge of English as a Second Language (ESL) training and requirements, Settlement Services, and other resources for newcomers to Canada.
Minimum Grade 12 education plus 1-3 years of administrative/intake experience in programs.
Fluency in English is important; fluency in other languages is considered an asset.
Salary: $16.97 per hour, plus eligible for benefits after 3 months
If you are interested in this position, please submit a cover letter and resume to: [email protected]
Application deadline: Friday, July 28, 2017 at 5:00 p.m.
ESL Stage 1 (CLB 1-4) Instructor (part-time)
Location: Portage Learning and Literacy Centre, Portage la Prairie
Schedule: Tuesday, Thursday; 6:00pm to 9:00 pm, plus 1 hour prep time
Term: September 5, 2017 – June 29, 2018
Class Level: ESL Stage 1 (CLB 1-4)
Salary: $36.67/hour for 7 – 10 hours per week
Role and Responsibilities:
Plan and teach settlement-focused lessons each week to a group of adult learners
Plan course content based on results of student needs assessment
Implement portfolio based language assessment (PBLA) for each learner
Provide information, referral, bridging and support services to assist participants to access other community resources and programs
Access student progress and prepare reports based on Canadian Language Benchmarks
Work co-operatively with on-site child care staff to provide support to parents and their children when necessary
Qualifications:  
Certificate in Teaching English as a Second Language (CTESL) from a TESL Canada recognized institution or trained in Canada to teach ESL
Experience teaching English in a multi-level environment, and knowledge of Canadian Language Benchmarks and Portfolio Based Language Assessments
Culturally aware, creative, and willing to go above and beyond to provide quality education to our adult learners
Demonstrated commitment to teaching excellence
Excellent lesson planning, communication and interpersonal skills
Ability to work independently with solid time management and organizational skills
Approachability and patience in instructing and mentoring learners
Punctual, reliable and be a team player
How to Apply: 
Please email your resume and cover letter to Cathy Dowd at

[email protected]

by 4:00pm, Monday, August 14th.
Volunteer Opportunities
The Portage Learning and Literacy Centre is currently looking for at least one more member of the community to join our Board of Directors.
Members of the Board of Directors
The Portage Learning and Literacy Centre is a not-for-profit organization providing individuals of the Central Plains region with opportunities to realize their literacy, educational, employment, and life goals through a positive and supportive environment. The affairs of the PLLC are governed by a Board of Directors.
Board members play a key role in setting the direction and priorities of the Centre—this is a great way to make a substantial contribution to the organization and the community.
The Board of Directors is the acknowledged final authority of PLLC.  Its objectives are as follows:  (1) To ensure that services provided are within the Objects of PLLC, Inc.;  (2) To ensure that the highest possible standards of service are offered and available to the community at reasonable cost; (3) To ensure the financial health of PLLC, Inc.
All interested individuals should apply to be a member of the Board of Directors by filling out our online volunteer application form found below.  If you prefer a paper copy or if you have any questions, please stop by our office at 110 Saskatchewan Ave. West, Portage la Prairie, or email [email protected]
Other Volunteer Opportunities:
Thank you for your interest in the Volunteer Program. As a volunteer, you may choose options that are most suitable to your personality and your schedule. We are always looking for dedicated volunteers to fill the following positions:
ESL Classroom Assistant is responsible for assisting the ESL Instructor with teaching English to newcomers in the classroom, as planned and directed by the ESL Instructor.
Language Tutor meets individually or in small group settings to help newcomers improve conversational English and gain confidence.
Settlement Partner meets individually with newcomers to offer friendship, support, community tours, and an opportunity to practice English.
Special Events Assistant provides support to our staff for organizing and implementing planned special events for newcomers to build connections in the community.
Career Mentor is responsible for providing the opportunity for internationally trained people to practice in their respective careers.
Conversation Club Facilitator leads a group discussion to allow newcomers to practice their English and learn about the community and all facets of living in Canada.
Literacy Classroom Support is responsible for assisting the instructor and students in the Literacy classroom during the day.
If you are interested in volunteering for us, please fill out and submit the application form below and we will follow up with you to discuss your interests and complete the following required documents:
Volunteer Confidentiality Agreement
Waiver of Claims & Release of Liability
Child Abuse Registry Check
Criminal Record Check