Employment and Volunteer Opportunities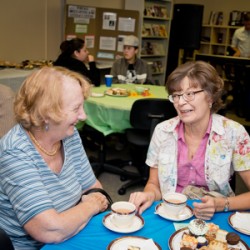 Employment Opportunities
The Manitoba Institute of Trades and Technology (MITT) in partnership with the Portage Adult Learning Centre is currently seeking an experienced Teacher.
TEACHER – 0.8 FTE
Math, English, Family Studies, Human Relations
Term: Sept 2017 to June 2018
Ideal candidates will have demonstrated successful classroom teaching and
have experience at grade levels 10, 11 and 12.
The successful candidate will possess:
a valid Manitoba Teacher Certificate (or eligibility for)
demonstrated experience and understanding of the senior years curriculum related to the assigned teaching areas
excellent organizational and classroom management skills
the ability to communicate effectively with Adult Learners
demonstrated ability to work independently and as part of a team
Interested candidates are invited to submit a cover letter and current resume to Education Director at [email protected] or fax: 204-857-6358.
Quote competition #2016-058 in email subject line.
Application deadline: May 25, 2017 at 8:30 am
Salary: In accordance with the 2014-2018 Collective Agreement.
MITT and the Portage Adult Learning Centre are committed to an employment equity practice that achieves a workforce reflective of the community at large. Applicants are encouraged to self-declare.
All persons hired by MITT are subject to the completion of satisfactory Child Abuse Registry and Criminal Record checks including vulnerable sector.
We thank all applicants for their interest. Only those applicants selected to be interviewed will be contacted.
The Portage Learning and Literacy Centre is currently recruiting a student (full-time, high school or post-secondary) for a summer term position as:  Office & Events Assistant
This position is for nine weeks, from June 26 to August 25, 2017, at 37.5 hours per week.
As this position is funded through the Canada Summer Jobs program, the candidate MUST:
be between 15 and 30 years of age at the start of employment;
have been registered as a full-time student in the previous academic year and intends to return to school on a full-time basis in the next academic year;
be a Canadian citizen, permanent resident, or person on whom refugee protection has been conferred under the Immigration and Refugee Protection Act; and
be legally entitled to work in Canada with relevant provincial/territorial legislation and regulations.
SUMMARY:
Under the supervision of Program Director and working in close collaboration with the Settlement Coordinator, Program Assistant/Volunteer Coordinator, the Office & Events Assistant will assist with: 1) the administrative operation of the office, including support for all programs of the organization, but primarily for the Settlement Program – Newcomer Settlement Services, and 2) event planning, logistics and communication, including for a summer festival in the community and an event, in collaboration with other community groups, to celebrate Canada's 150th anniversary of Confederation.
Responsibilities:
Reception duties and administrative tasks, including greeting the public, answering phones, word processing, data entry, photocopying, faxing, drafting correspondence, and other duties related to office administration
Assisting with logistics, planning and implementing community activities for newcomers, including a summer festival for newcomers and the community and another event to celebrate Canada's 150th anniversary of Confederation
Assisting with planning of workshops for newcomers
Promoting and recruiting community volunteers to support our programming
Assisting with planning of orientation, training, and appreciation of volunteers
Maintaining accurate, up-to-date files, both hard copy and on computer database
Participating in regular staff meetings and relevant workshops and seminars
The ideal candidate will have the following qualifications:
Knowledge/awareness of the PLLC and its various programs
Familiar with office procedures and the needs of adults, including newcomers to Canada, jobseekers, and youth facing employment barriers
Fluent in the use of computers with Windows-based operating system and experience with Microsoft Office
Excellent writing and communication skills
Capacity to work in a self-directed manner and collaborate with others in a team setting
Excellent organizational and time management skills, attention to detail and ability to meet deadlines
Experience with organizing and implementing events, and working with volunteers
Ability to maintain confidentiality, including a secure filing system
Wage: $11 per hour (37.5 hours/week for 9 weeks)
Please submit a cover letter and resume to:  [email protected]
Application deadline: Monday, June 5, 2017 at 5:00 p.m.
We appreciate the interest of all applicants. Only those selected for interview will be contacted.
Volunteer Opportunities
The Portage Learning and Literacy Centre is currently looking for at least one more member of the community to join our Board of Directors.
Members of the Board of Directors
The Portage Learning and Literacy Centre is a not-for-profit organization providing individuals of the Central Plains region with opportunities to realize their literacy, educational, employment, and life goals through a positive and supportive environment. The affairs of the PLLC are governed by a Board of Directors.
Board members play a key role in setting the direction and priorities of the Centre—this is a great way to make a substantial contribution to the organization and the community.
The Board of Directors is the acknowledged final authority of PLLC.  Its objectives are as follows:  (1) To ensure that services provided are within the Objects of PLLC, Inc.;  (2) To ensure that the highest possible standards of service are offered and available to the community at reasonable cost; (3) To ensure the financial health of PLLC, Inc.
All interested individuals should apply to be a member of the Board of Directors by filling out our online volunteer application form found below.  If you prefer a paper copy or if you have any questions, please stop by our office at 110 Saskatchewan Ave. West, Portage la Prairie, or email [email protected]
Other Volunteer Opportunities:
Thank you for your interest in the Volunteer Program. As a volunteer, you may choose options that are most suitable to your personality and your schedule. We are always looking for dedicated volunteers to fill the following positions:
ESL Classroom Assistant is responsible for assisting the ESL Instructor in the teaching of English to newcomers in the classroom, as planned and directed by the ESL Instructor.
Language Buddy is responsible for assisting newcomers to Canada on a one-on-one and small group basis to help improve conversational English and gain confidence.
Settlement Support Buddy is responsible for providing assistance to newcomers to Canada on a wide range of settlement services and support.
Special Events Assistant is responsible for providing support to the Newcomers' Welcome Centre staff for organizing and implementing special events in the community.
Career Mentor is responsible for providing the opportunity for internationally trained people to practice in their respective careers.
Community Tour Guide is responsible for assisting newcomers and their families that need to be familiarized with their new community and surroundings.
Literacy Classroom Support is responsible for assisting the instructor and students in the Literacy classroom during the day.
If you are interested in volunteering for us, please fill out and submit the application form below and we will follow up with you to discuss your interests and complete the following required documents:
Volunteer Confidentiality Agreement
Waiver of Claims & Release of Liability
Child Abuse Registry Check
Criminal Record Check